How innovation pays in home health
October 21, 2016
Innovation is changing the world around us, offering solutions to long-held problems that are improving the way we communicate, conduct business, learn and grow. It's also impacting healthcare, of course, and particularly home health and hospice.
Innovation is changing the world around us, offering solutions to long-held problems that are improving the way we communicate, conduct business, learn and grow. It's also impacting healthcare, of course, and particularly home health and hospice.
As the healthcare landscape changes and Medicare and other regulations evolve, it's essential that home health agencies invest in tomorrow. Implementing advanced, innovative technologies in a home health or hospice setting will help agencies continue to provide the highest level of care and patients see improved outcomes.
Here are five ways that innovation pays in home health:
1. Provides the necessary infrastructure for information exchange 
Interoperability is one of the defining characteristics of the future of home care. Patients are seeing more providers than ever before – just one person cared for by your home health agency may also be seeing a slew of specialists, as well as his primary care doctor. And with ACOs on the rise – over the past year, the number of ACOs has grown by 12.6 percent, according to HealthAffairs – home health agencies need to have the digital infrastructure in place that enables the easy and efficient exchange of patient data across the healthcare spectrum. Transitions of care also demand effective data transfer and analysis. Home care agencies must be able to quickly receive and then clearly interpret records for a patient that were sent from a hospital, and vice versa. Innovation is key to developing electronic medical records systems that can seamlessly foster data transfer and analysis, some EMR vendors are already offering software solutions to do just that.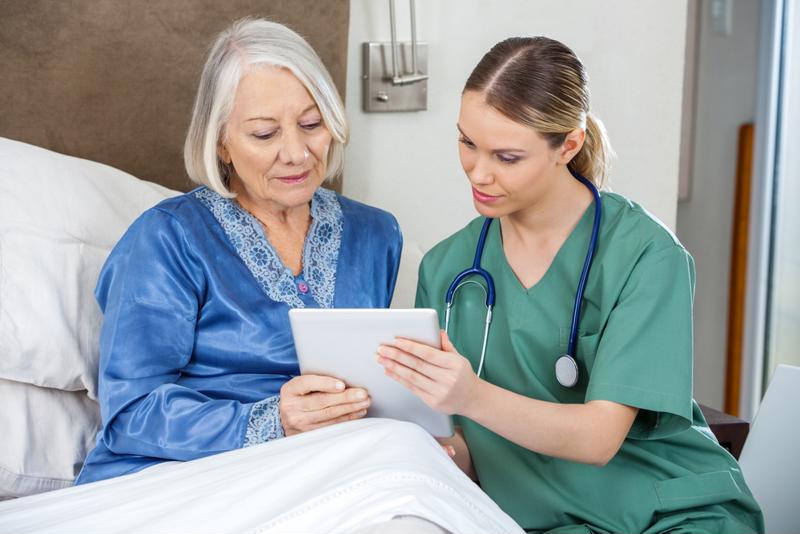 2. Supports value-based purchasing
Value-based purchasing is the new model of payment for home health care agencies, enacted by the Centers for Medicare & Medicaid services. Under this new structure, quality of care is prioritized over quantity of care. The new rules are currently being applied in nine states, however home care agencies in every state will soon be required to operate under these new standards. The quality of care at a particular agency will be evaluated through the capture of both familiar and new measures, with the agency reporting information under a number of criteria. A robust EMR system that can accommodate these new regulations and accurately and comprehensively report the required information will be absolutely essential to whether your home care agency receives the reimbursement it deserves.
3. Saves time on data intake and processing
In home health, the most time should be spent face-to-face with the patient – not typing away on the computer or tablet. C-CDA CCD documentation standards capture a comprehensive profile of patient health that can easily be sent from one care setting to another, however, entering and processing this information into the system is a time-suck. Instead, innovative EMR software offers a solution – it automatically processes the contents of C-CDA CCD documents, saving hours of time and enabling clinicians to focus on the patient, and not on data entry.
4. Enables effective clinician communication
Once you've processed this information, however, you still need to send it – and that can be a headache in itself, since HIPAA and Medicare regulations don't always make it easy to share and send patient data. However, innovation in EMR technologies brings with it new ways that clinicians can communicate with one another and share important information. Direct messaging is one solution that is revolutionizing the way home care agencies share C-CDA-based information securely, compliantly and efficiently, so patients receive the care they need, without any wasted time.
"Direct messaging is one solution revolutionizing the way home care agencies share information."
5. Helps compliance
CMS is cracking down on compliance in home health across the country. Some home health agencies have been charged with fraud and ordered to pay millions, but even home health agencies who believe they are compliant should reassess their compliance practices, since Regulatory Audit Contractors will be looking for instances of incorrect billing, overpayment and other errors – some of which can be simple mistakes due to disorganized data, unsophisticated EMRs or hurried data entry. About 5 percent of home health agencies show signs that may be attributed to fraud, according to Modern Healthcare, and the government is stepping up their oversight in kind. An innovative EMR designed for compliance that can easily and accurately show patient data and that helps agencies stay up to date on compliance efforts will be key in this changing home health landscape.
Ready to embrace innovation in home health and bring your agency into the future? Start a conversation with Thornberry's team of experts today.
Related Articles
// END PAGE CONTENT ?> // FOOTER ?> // END FOOTER ?>